Professor, Doctor
Researcher of the Department of Korean History, Faculty of History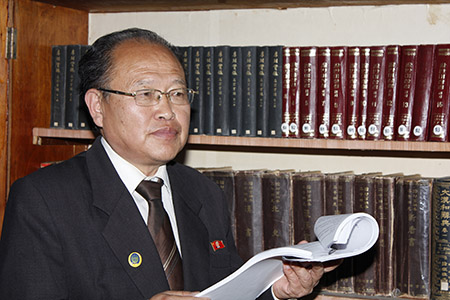 On April 5th, 1954, he was born in Sunchon County(then), South Phyongan Province.
After serving in the army, he studied in Faculty of History, Kim Il Sung University in 1977.
Through the postgraduate course after the university he became a professor of Kim Il Sung University.
He was awarded a Ph.D., the title of his essay is "Study on the Korean Family Origin in the Kinai Area of Japan".
He teaches "Korean History", "History on the Korean External Relationship" and so on.
He has published more than 30 kinds of textbooks and references including "Korean History" and "Mt. Paektu on the old map".
He presented some essays such as "Cultural Influence on Japan by Koguryo" in several international seminars including the symposium on Korean History.
In the magazines at home he published more than 120 papers including " Koguryo is a successor to Ancient Korea".
He has trained 5 persons of Ph.D. and 25 persons of MA.
He was highly praised by President Kim Il Sung, Chairman Kim Jong Il and Comrade Kim Jong Un several times.