Professor, Doctor Choe Sang Gon
The President of
Kim Il Sung
University and the Minister of Higher Education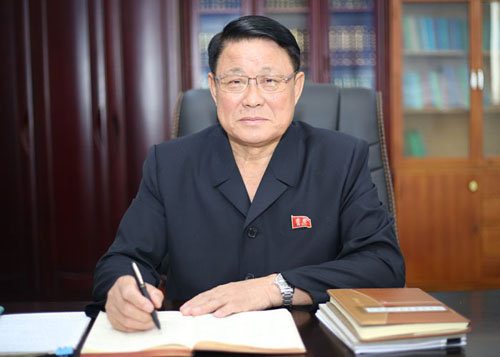 Kim Il Sung University is a university with great pride. It is named after the great leader Comrade Kim Il Sung and is the alma mater of the great leader Comrade Kim Jong Il.
Established under the loving care of the great leaders, it has served over the last 70 years as the people's university providing higher education to the sons and daughters of working people and trained lots of competent talents. It has also made huge contribution to the development of science and technology, national economy and culture.
The university has always topped the list of training centers for national cadres. Based on the superior socialist education system, it has trained backbone government officials as well as scientists, technicians and the experts in various sectors.
Supreme Leader Kim Jong Un said that the history of the university is the one of the shining victory of the Juche-oriented ideas and theories of the great Comrades Kim Il Sung and Kim Jong Il on education and their outstanding leadership. He continued that it is also the history resplendent with the patriotic and faithful service of all its teaching staff, students and graduates who have worked devotedly for the victorious advance of the revolutionary cause and the prosperity of their country, cherishing infinite loyalty to the Party and the leaders.
True to the great plan of the Workers' Party of Korea to build a powerful talented nation, we are successfully developing the university into one of the renowned and most prestigious universities in the world, by ensuring the maintenance of its revolutionary character and original features as the university of the leaders, building up the ranks of educational and scientific personnel, and ceaselessly improving the educational and scientific research conditions.