Candidate academician, Professor, Doctor
Researcher of Catalyzer Chemistry Institute, Faculty of Chemistry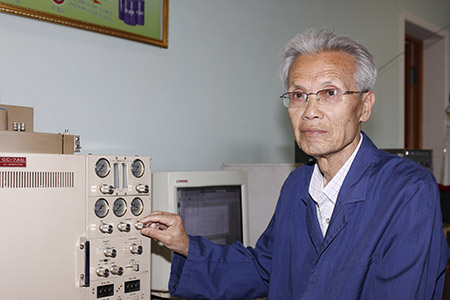 He was born in Takhazuki City, Osakabu Province, Japan on Dec. 18, 1940.
He graduated from Hamhung University of Chemical Industry (1958-1962) and has been a professor in Hamhung University of Chemical Industry until July, 1971. Since then, he has been a researcher/a head in catalyzer institute (then), Faculty of Chemistry .
He is a People's Scientist of the DPRK.
He played an important role in several research projects such as development of permanent preservation system of revolutionary historic relics, purification of raw gas for ammonia synthesis, purification of naphtha reformed gas and development of some catalysts.
He was awarded a Ph.D. degree in Economics (1989) with his dissertation "Study on the preparation of alumina-coated palladium catalyst, and thereof surface activity and application".
He lectures on several subjects including "Physical Chemistry", "Catalytic Chemistry" and "Catalyst Methodology".
He also authored over 20 textbooks and reference books including "Catalytic Chemistry", "Reaction Engineering", and "Catalytic Nanotechnology".
He published over 100 essays including "Study on the reaction rate modeling of water-forming reaction over Pd/Al2O3 catalyst" in the national academic journals.
He has supervised 7 doctoral and 17 MA dissertations.
He was highly praised by President Kim Il Sung, Chairman Kim Jong Il and Comrade Kim Jong Un for his achievement of scientific research.