Doctor, Associate Professor
Lecturer, Faculty of Law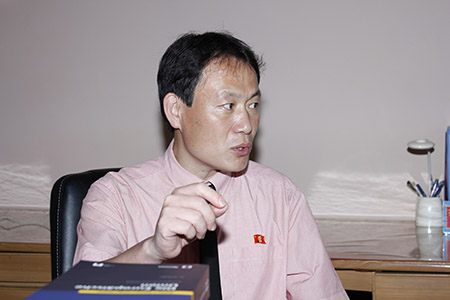 He was born in Central District, Pyongyang on May 12, 1976.
After leaving middle school in 1992, he entered the Faculty of Law, Kim Il Sung University.
After graduation, he was admitted to the postgraduate course and has been a lecturer since May 2002.
From Berlin Humboldt University in Germany he acquired LL. M (Latin Legum Magister) by enunciating dissertation "Jurisdiction of the international investment dispute solution center, centered on the interest of the developing countries".
Presenting a degree thesis "Study on the international trade organization law" in January 2016, he was conferred Ph.D. of law of the DPRK.
Now he teaches several subjects including the "International Trade Law" and "International Arbitration Law".
He has written and published over 10 kinds of the textbooks and reference books including "World Trade Organization Law" and "The Main Local Economy Organization".
He presented the thesis "The development of business arbitration in the DPRK on the German internet magazine (SchiedsVZ 2017 Heft2) in April 2017.
He participated in the several international science seminars such as Kim Il Sung University science seminar and discussion between the Faculty of Law, Kim Il Sung University and German Gi SSen University and there presented the theses on the problems of the Korean foreign economy arbitration system and investment dispute solution system.
He has published about 20 papers in internal magazines including "Main principle of the world trade organization law and legal problems".