Doctor
Researcher of the Institute of Social Sciences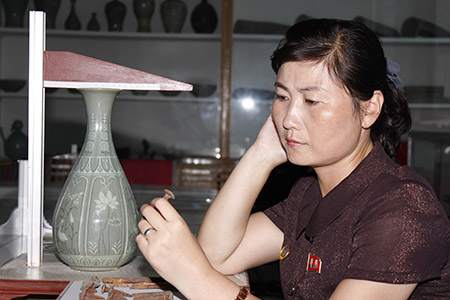 She was born in Wonsan City, Kangwon Province on Sep. 15, 1982.
She graduated from the Faculty of Chemistry , Kim Il Sung University in 2003 and has been a researcher since 2007, after her post-graduate course.
She took part in the age determination of several historic sites including Tongamdong site, which was designated as a national treasure.
She was awarded a Ph.D. degree in Geology (2016) with her dissertation "Study on the Quaternary Geological and Archaeological Age Determination by Improved Thermoluminescence Dating Device and Interpretation of Thermoluminescent Curves".
She lectures on "Archaeology" and has written several reference books including "Interpretation of Thermoluminescent Curves" and "Preservation of Historical Sites and Relics".
She published "Thermoluminescence Dating of Stalactitic Calcite from the Early Palaeolithic Occupation at Tongamdong site" and "Age determination of the Neolithic Joohyondong Cave site in the Democratic People's Republic of Korea" in "Journal of Archaeological Science: Reports".
In 2016, she presented her paper "Thermoluminescence Dating of Paleolithic Relics in the Taedong River Basin" in the International Symposium on the occasion of the 70th anniversary of Kim Il Sung University, and in 2018, "The Recently Unearthed Tongamdong Site and the Eternity of Korean History" in Tumangang Symposium held in Yanbian University, China.
She has published over 30 essays including "Application of Luminescent Dating in Archaeology" in several national academic journals.
She was highly praised by Chairman Kim Jong Il and Comrade Kim Jong Un for her achievement of scientific research.