Ryongnamsan Intellectual Property Office was established in 2017 as a intellectual property center whose external activities involving international organizations such as World Intellectual Property Organization, copyright management entities, universities and scientific research institutions of other countries.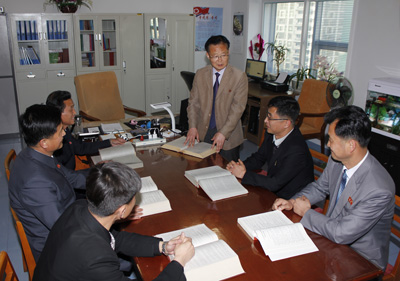 RIPO functions firstly as copyright management office dealing with a wide range of creative or artistic works, in a comprehensive and unified way, created by university population, and secondly as a copyright service proxy working for, upon request of or authorized by authors of the DPRK and other nations.
Activities and services of RIPO today include:
a) registering as intangible properties of the university and managing the circulation of know-how, designs, novels, movie scenarios, software programs and other intellectual properties created by the university's faculty, postgraduate and undergraduate students,
b) issuing copyright licenses for all written works created on the campus and, through copyright laws and dispute resolution, protecting the copyright holder's interest,
c) working with WIPO and other international organizations, universities and research institutions to promote joint projects, joint or contracted developments, co-publishing and commissioned copyright management and other external transaction related to intellectual properties protection,
d) organizing capacity building sessions, workshops, on-line public awareness programs that focus on copyright issues,
e) providing a wide variety of information and consultant services to promote creation, circulation and use of written properties,
f) publicizing successful writings and development projects accomplished at the university through diverse media, and
g) presenting status reports or reviews on the university's present and potential intellectual property resources, and drafting rules and regulations on intellectual property management directly to the university's non-standing copyright council.
Located in Building No. 3.
E-mail: ip-office@ryongnamsan.edu.kp