The main purpose of this faculty is to train the talents with creativity and practical ability who can solve the scientific and technical problems, occurring in the investigation, development and maintenance of the country's resources and environment and contribute to the sustainable developments of the nation by estimating, protecting and maintaining the resources and environment and making the effective use of them.
It was established as the Faculty of Geography in Juche 38 (1949) from the geography sub-discipline of the Faculty of History and Literature. In Juche 93(2004), it was renamed after the Faculty of Geo-environmental Science.
In the faculty, there are 8 departments(Department of Physical Geography, Department of National Land Planning, Department of Environmental Conservation, Department of Cartographical Information, Meteorology Department, Hydrology Department, Oceanography Department, Department of Tideland Studies), 1 institute(Institute of Numerical Weather Predictor) and 2 laboratories(Laboratory of Geographical Information, Laboratory of Remote Sensing Application).
And there are sub-disciplines of Geo-environmental Science, National Land and Environment, Meteorology and Hydrology and Oceanography.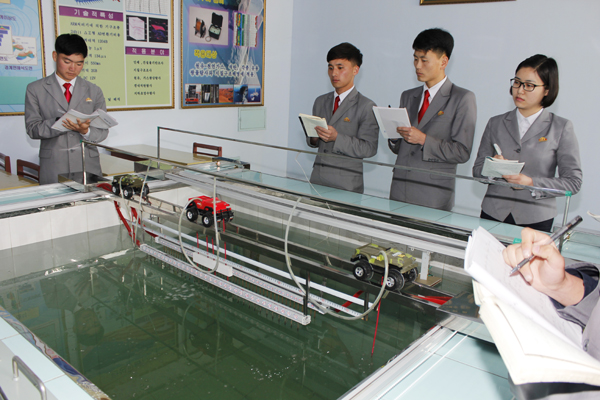 The typical subjects are National Land Planning, Integrated National Land Planning, National Land Planning Support Design, Analysis of National Land & Resources, Maintenance of Local Ecology, Meteoro-Climatology, Environmental Science, Physical Geography, Economical Geography, Remote Sensing Analysis, Geographical Information System, Position Deciding System and etc.
There are some 110 lecturers and researchers in this faculty including 2 candidate academicians and about 40 doctors while 40 of them with academic titles like professor and assistant professor.
About 700 students are studying in this faculty.