The main purpose of this faculty is to train the reliable experts on this field and contribute to the building of chemistry industry and light industry of the nation.
This faculty stemmed from Applied Chemistry sub-discipline which belonged to Faculty of Technology(then) in Juche 36(1947).
There are 5 departments(Department of Inorganic Chemistry, Department of Organic & Polymer Chemistry, Department of Analytical Chemistry, Department of Theoretical Chemistry, Department of Chemical Process Engineering), 3 institutes(Institute of Synthetic Chemistry, Institute of Physical Chemistry, Institute of Catalytical Chemistry), 2 independent laboratories(Laboratory of Chemical Apparatus, Laboratory of Chemical Information) and a pilot plant.
As sub-disciplines, there are Synthetic Chemistry, Analytical Chemistry, Chemical Processing Engineering, Catalytical Chemistry, C1 Chemistry, Modern Chemistry.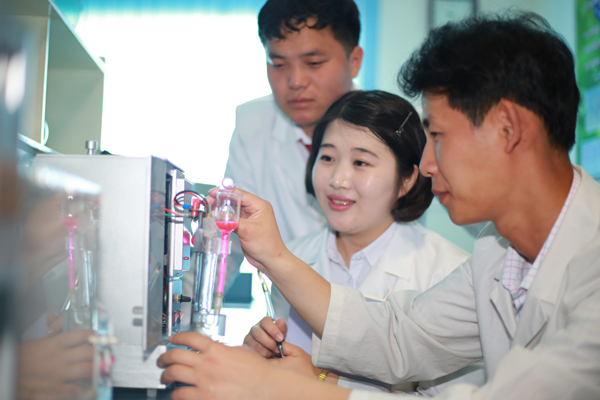 The typical subjects are General Chemistry, Inorganic Chemistry, Synthetic Chemistry of Inorganic Materials, Coordination Compound Catalytical Chemistry, Organic Chemistry, Organic Synthetic Chemistry, Polymer Chemistry, Analytical Chemistry, Instrumental Analysis, Electrochemical Analysis, Optical Analysis, Chromatographic Analysis, Electromagnetic Analysis, Physical Chemistry, Catalyst Chemistry and etc.
About 150 lecturers and researchers are working in the faculty including 4 candidate academician and around 40 doctors. Of all, there are some 60 lecturers with academic titles like professor and assistant professor.
About 800 students are studying in this faculty.