2018.2.24.
The festival diploma in which there is the smiling photo of the great Leader Comrade Kim Jong Il was awarded to Kim Il Sung University taking part in the 22nd Kimjongilia Festival.
The reverence and yearning for great General was so profound and strong as this sun's flower festival took place in the meaningful year, the 30 th year since the flower was named Kimjonglia.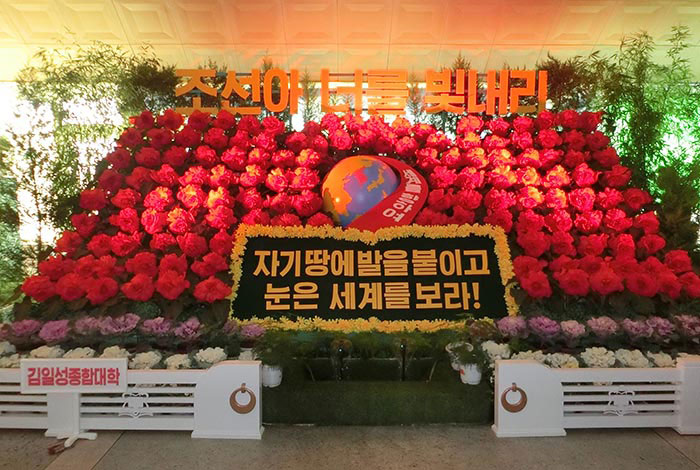 The university display stand was remarkably decorated with tens of hundreads of potted Kimjongilias and over ten kinds of flower plants amounting to over a hundred in its number including hyosong flowers with the powerful words such as 'O Korea, I will add glory to thee', 'Keep your feet planted firmly on this land and look out over the world!' and 'Forward to beat the world!' which was inscribed on the red flag enveloping over the world globe.
This showed artistically the burning faith and loyal determination and a high degree of enthusiasm of the teaching staff and students of Kim Il Sung University who are determined to achieve the final victory of Juche revolutionary cause under the wise leadership of the respected Comrade Kim Jong Un and to open up the front gate of socialist power where people's wishes come true by science and technology ahead of others, true to the behest of the great General.