2018.2.19.
With the feeling of profound reverence and strong yearning for the Great General being overflowed all around Ryongnam Hill, the art performance in celebration of the Day of Shining Star, the birth anniversary of the great Leader Comrade Kim Jong Il was given by teaching staff and students of colleges, faculties and some units of Kim Il Sung University in the university gymnasium on February 15, Juche 107(2018).
Put on the stage were colorful numbers prepared by the teaching staff and students of Economic Faculty, Life Science Faculty, Information Science College, Literature College.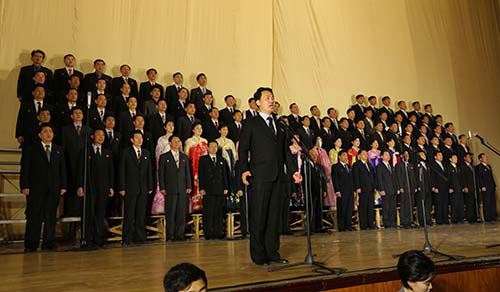 Begining with a narrative poem and a mixed chorus 'Cantata to Comrade Kim Jong Il', colourful numbers were staged such as a mixed chorus ' O We Miss You'and a female solo 'Spring in February'.
The performers sang high the infinite national honor and pride and their happiness of having the great General in high esteem as the Sun of Juche forever.
Watching the performance, the audience were overwhelmed by the ardent yearning for the great General who performed immortal exploits by devoting his all to the prosperity of the country and its people's happiness without a moment's rest all his life.
The performers in several numbers including a chorus 'Party, my mother'sung by Doctors showed well their belief that they have their socialist fatherland and that they will study science only under the banner of Korean Workers' Party with high-standard artistry.
The performance was at its climax when such numbers, vigorous and impressive, as poem and chorus 'Our Faith' and 'The General Is Immortal as the Sun' were put on the stage since they showed well a high degree of revolutionary zeal and firm determination of the university officials, teaching staff and students to glorify the idea of the respected Comrade Kim Jong Un to build a powerful socialist country by achieving a great success in the scientific and educational work.
All the people present there made their minds to glorify this year when they will mark the 70th anniversary of the founding of the glorious Democratic Republic of Korea under the wise leadership of the respected Comrade Kim Jong Un who is devoting himself to translating the wishes of the great Leaders Kim Il Sung and Kim Jong Il into reality on this land.